The Chocolate Room & Hencky Francky Softy Ice-cream Parlor, Mount Abu branch located at the corner on the way to Nakki lake is unleash the exclusive chocolate delight in aravalli ranges serving pure chocolate creatively shaped in different eye soothing architectures like Taj Mahal, guitar, etc; along with the famous softy ice-cream served in waffle cones and all time favorite SLUSH.
The Chocolate Room (#TCR) has brought Columbus wonderous experience of chocolate to our doorstep in India, An Australian initiative, spreading its wings rapidly is now having its exclusive outlets in Mount Abu and many other countries and cities.
[logo-carousel id=chocolateroomcoffee3]
Options @ #TCR
Kit kat shake Hot chocolate Cakes Pastries Mousses Puddings Cookies Mocktails Coffee True chocolates Cold coffee Candied Apple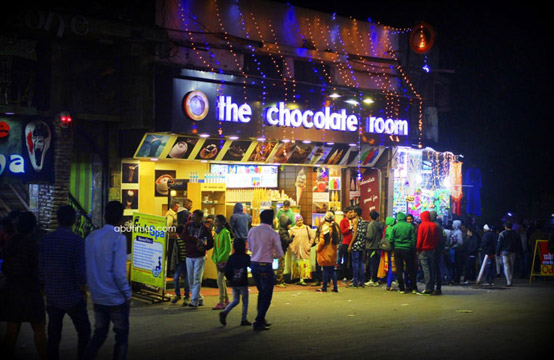 Don't Miss
(*) Pinacolada (*) Hot chocolate (*) Smoking Brownie (*) Chocolates for Gift
[logo-carousel id=chocololateroomshapes]
Hencky Francky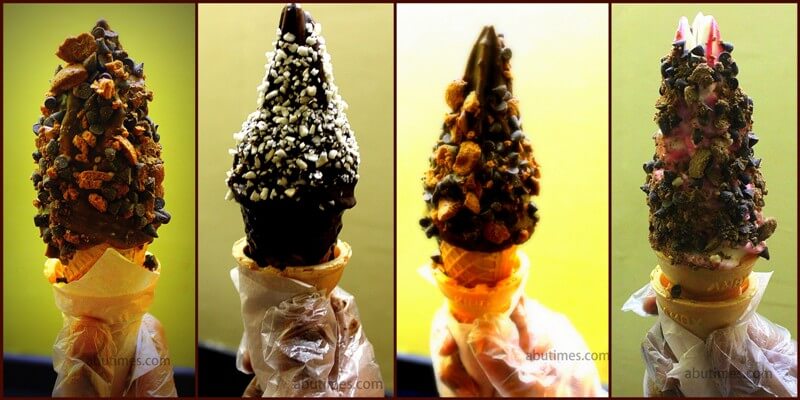 Hencky Francky the Softy Ice cream parlor (#HFS) is among the beloved soft parlor of the town since 1963, soft like cotton, taste that can never be forget and numerous flavors will make you order at least two ice-cream for yourself, one to start your visit to Nakki Lake and the another one, while going back from the Nakki Market.
SOFTY
Vanilla
Mango Ripple
Lichee Ripple
Lemon Ripple
Strawberry Rain
Pineapple rain
Kesar Rain
Chocolate Rain
Chocolate
Chocolate vanilla
Three-in-one
Vanilla chips
Vanilla Dip
Strawberry chips
Tuty Fruity
Black Current
Mango kaju
Butter Scotch
Chocolate kaju
Kaju anjeer
Choco chips dip crunch
Vanilla chips dip crunch
Strawberry chips dip crunch
THICK SHAKE
Vanilla
Rose
Cherry
Kesar elaichee
Mango Pineapple
Strawberry
Chocolate
Butter scotch
Black currant
Lichee
Thandai
Kesar Pista
Kesar Badam
Green apple
Sitafal
Kaju anjeer
Chocolate chips
SLUSH
Orange
Lemon
Kala Khatta
Kachee Kerry
Strawberry
Pineapple
Lichee
DESSERTS
Butter scotch
Chocolate
Lichee delight
Fig & honey
Pineapple wonder
Mango wonder
Black currant
Fruit cocktail fantasy
Kaju anjeer
Why #TCR & #HFS
– Only franchise of #TCR in the whole district
– Some exclusive flavors of coffee and true chocolate only available in the entire town
– Located at the starting point of Nakki lake offers worth flavors of most famous softy ice cream to add memories to your mount abu, nakki lake visit
Additional Information
Category: Franchise
Parcel Facility: Available
Timings: 10:00 am to 11:00 pm
Seating Arrangement: Ground Floor
Places Around: Nakki Lake Garden, Horse Riding, Om Shanti Spiritual Museum
Parking: Located at a walking distance from main parking and near by parking options also available.
Locate on Map
Contact Details
Email: manvi_1090@yahoo.in
Contact person : Manviraj Singh Gehlot
Landmark: opp Honest Restaurant near Havmor Eatery
Address: Nakki Lake Road, Mount Abu (Rajasthan) 307501
Quick Enquiry and #AT Discounts Coupons
Nakki lake is the heart of this hill station, #HFS located on the starting point to lake, provides amazing flavors of softy that is the best way to start your lake visit and while returning, recharge yourself with #TCR hot and cold coffee options.
[logo-carousel id=chocolateroomcakes2]