Honest Restaurant, Mount Abu branch located at a immediate distance from Nakki Lake garden serves the original taste of honest food items, from pau bhaji to dossa or any other dish, honest restaurant, mount abu has been serving tourists with finger licking food in a comfortable eating atmosphere specially for family.
Food is a lifelong relationship, and like to celebrate and nurture this beautiful bond. It's a part of some of their happiest memories, late nights with friends, the first romantic drive, the on-top-of-the-world feeling after the promotion… And when there's a plateful of yummy food, the night, the drive and the promotion become even better! Just you, your loved one and the aroma of hot, just off the stove Pulav or a platter of mouth-watering buttery Pau bhaji, delicious till the very last bite…
Available Categories
PUNJABI, CHINESE, SOUTH INDIAN, ITALIAN, JAIN FOOD.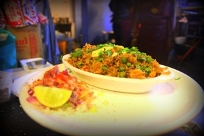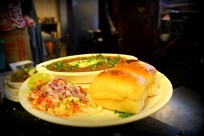 Why Honest Restaurant
The flagship products, Pau bhaji, Pulav, Indian (Punjabi), Chinese, Snacks e.t.c have made Honest a leading player in the food & snacks sector in Gujarat and now also available in Mount Abu.
A delight for tourists visiting abu who are fond of Honest servings specially Gujaratis.
Quality, signature spices and unbeatable taste makes Honest the best eating site in Aravalli ranges.
You think and they have it, Honest is a multi cuisine restaurant and offers variety of delicious food with finger licking taste.
Don't Miss
– Pulao
– Burger
– Dal Tadka
– Pau Bhaji
– Manchurian
– Veg Biryani
– Idli Sambhar
– Chola Bhatura
– Chatni Sandwich
– Red Garlic Chatni (લસણ લાલ ચટણી)
ACCOMPANIMENTS
Dry Masala Pav
Masala Pav Bhajiwala
Tomato onion Masala Pav
Butter Pav
Single Pav
Lasan ni Chatni
Extra Butter
Extra Cheese
DAL
Dal Fry
Dal Tadka
Dal Makhani
SANDWICH
Bread Butter
Chatni Sandwich
Alu Mutter Sandwich
Veg. Cheese Sandwich
Cheese chatni Sandwich
Club Sandwich
Cheese Jam sandwich
Cheese Toast
Masala Cheese Toast
Garlic Toast
Baked Beans on Toast
PAPAD RAITA SALAD
Roasted Papad
Fried Papad
Honest Sp. Masala Papad
Honest Sp.Cheese Masala Papad
Punjabi Masala Papad
Pineapple Raita (sweet)
Boondi Raita
Veg.Raita
Plain Curd
Green Salad
PIZZA
Italian Pizza (Crispy base)
Double Cheese Pizza (Crispy base)
Cheese Baked pizza (Crispy base)
Napoleon Pizza (soft base)
Mexican Pizza(soft base)
Hawain Pizza(soft base)
Margherita Pizza(soft base)
Honest Special Pizza(soft base)
Mushroom Garlic Pizza( crispy/ soft base)
BURGER
Veg.Burger
Veg. Cheese Burger
Veg. Double Cheese Burger
BHAJI PAV
Bhaji Pav
Bhaji with Dry Masala Pav
Sp.Bhaji Pav
Sp. Bhaji with Dry Masala Pav
Boiled Bhaji Pav
Boiled Bhaji With Dry Masala Pav
Tomato Bhaji Pav
Potato Bhaji(Farali)
Paneer Bhaji Pav
Cheese Bhaji Pav
KUCHH THANDA
Sweet Lassi
Butter Milk
Mineral Water
Aerated Water
PULAV
Veg. Pulav
Sp.Pulav
Paneer Pulav
Cheese Pulav
RICE & BIRIYANI
Steamed Rice
Jeera Rice
Veg. Biriyani
Hydrabadi Biriyani
Kashmiri Pulav (sweet)
Veg. Punjabi Pulav
Corn Pulav
Honest Sp. Biriyani
SOUPS
Tomato Soup
Minestrone Soup
Sweet Corn Soup
Hot & Sour Soup
Veg. Manchow Soup
Corn Tomato Cheese Soup
TANDOOR SE ROTI
Plain Roti
Butter Roti
Missi / Makai Roti
Stuffed Naan
Plain Paratha
Butter Naan
Butter Paratha
Butter Kulcha
Cheese Naan
Kashmiri naan(Sweet)
Garlic Naan
INDIAN
Khoya kaju(sweet)(white)
Mushroom Tawa Masala(brown)
Kaju butter masala(red)
Kaju curry(brown)
Veg.Honest Sp. Sabji (brown)
Navratan korma (sweet) (white)
Malai Kofta (sweet) (brown+ White)
Nargis Kofta (Green)
Sabji Laziz (brown)
Baby Corn Khada Masala (brown)
Mushroom Muter masala (brown)
Veg. Diwani Handi(green)
Veg. Pahadi (green)
Veg. Hangama(red)
Methi Mutter Malai (sweet)(white)
Tomato Corn Bhartha(red)
Veg. Makhanwala (red)
Sarson ka Sang
Shahi Sabji (green)
Veg. Kadai (brown)
Corn Palak (green)
Mix Vegetable (brown)
Veg. Kolhapuri (red)
Veg. Singapuri (brown)
Veg. jaipuri (brown)
Dum Aloo (brown)
Chana Masala (brown)
Aloo Hara Masala (green)
Aloo Palak
Jeera Aloo
SOUTH INDIAN
DOSAS
Plain dosa
Rava plain dosa
Paper plain dosa
Mysore plain dosa
Rava masala dosa
Paper masala dosa
Mysore masala dosa
Spring dosa
UTTAPAM
Mix uttapam
Onion uttapam
Tomato uttapam
Masala uttapam
STEMED IDLI
Butter steamed idli
CHINESE
Paneer chilli dry/gravy
Vag. Paneer Manchurian dry/gravy
Vag. Manchurian dry/gravy
Baby corn chilli dry/gravy
American chopsey (sweet)
Veg. hakka noodles
Veg. chilli garlic noodles
Singapuri noodles with Manchurian (sweet)
Chinese bhel
Veg. fried rice
Veg. sezwan fried rice
Mushroom fried rice
Manchurian rice dry
Manchurian noodles
Manchurian gravy with fried rice
PANEER
Honest Sp. Paneer (Red)
Mutter Paneer
Paneer Dumdam (Red)
Paneer Toofani (red)
Paneer Lasuni Tikka Masala (Brown)
Panner Tawa Masala(red)(Spicy)
Paneer Pasanda (Brown)
Cheese Butter Masala (Red)
Paneer Do Pyaza (Brown)
Paneer Bhurji(Brown)
Paneer Balti (Brown)
Shahi Paneer (green)
Paneer Kadai (Brown)
Paneer Tikka Masala (red)
Paneer Patiala(Red)
Paneer Kolhapuri(Red)
Paneer Butter Masala (Red)
Palak Paneer
The Honest Group of Restaurants started in 1975. By God's grace and the continuous support of people, they have grown and reach to the heart of all their customers. They feel pride on the honesty and quality of the food—whether customers enter a takeaway Honest Restaurant or an air-conditioned one, they are always assured that their flagship products will taste just the same. It's a guarantee—honestly!
Additional Information
Category: Franchise
Parcel Facility: Available
Timings: 07:00 am to 11:00 pm
Seating Arrangement: Ground Floor
Parking: Located at a walking distance from main parking and near by parking options also available.
Locate on Map
Contact Details
Email: manvi_1090@yahoo.in
Landmark: Nakki Lake
Contact Person: Manviraj Singh
Address: Nakki Lake Road, Mount Abu (Rajasthan) 307501
Quick Enquiry and #AT Discounts Coupons
HONEST, good food cooked with love and simplicity. What you see is just what you get.