Chacha Group is a renowned name since 1955, in Mount Abu and beyond. In an environment of excellence, surrounded by lush green landscaped gardens spread in over 2 acres of land, with personal attention and the most modern facilities, Chacha Inn "The Garden Retreat" which stepped into the Hospitality Industry in 1992 is a combination of luxury, natural beauty and age-old wilderness, woven together to produce an environment of peace and magically memorable moments.
Why ChaCha Inn
– ChaCha group a renowned name since 1955 and serving in Hospitality Industry since 1992.
– Spread in over 2 acres amidst tranquil surroundings, elegant interiors and beautifully landscaped gardens with natural waterfalls and lotus ponds to create a soothing and intimate ambiance.
-The Barmer (langa) singers, Magic and Puppet show arranged in gardens every evening, complementary by ChaCha Inn, bound to make your stay the most memorable part of your holiday.
Hotel like a tourist spot in itself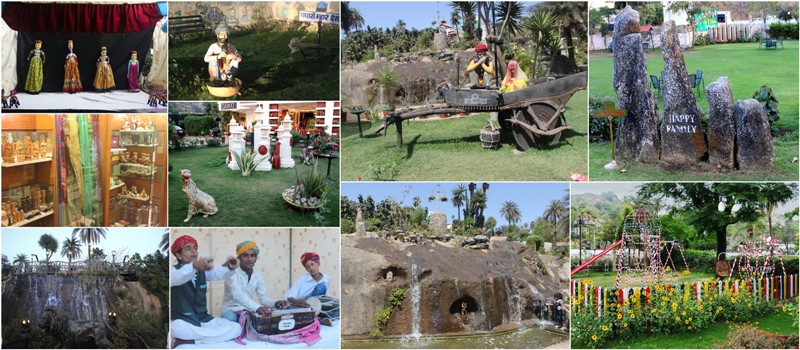 Hotel is not just enough title to describe this piece of land in mount abu developed to provide a natural living environment to the guests coming to mount abu, hill family, brass and mud statues, magic and puppet show, open garden restaurant near waterfall with crispy music environment from the langa
singers of barmer (rajasthan), morning walk, play with birds and squirrels visiting hotel every morning.
Rooms Gallery (click here for more)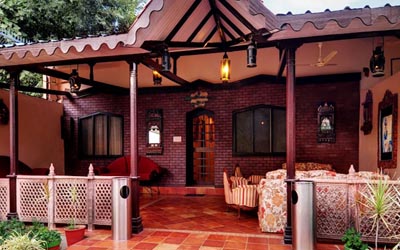 Cottages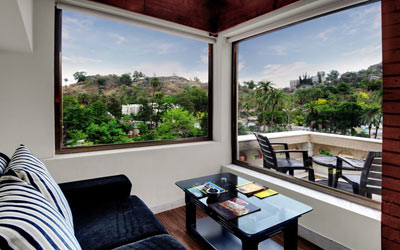 Garden View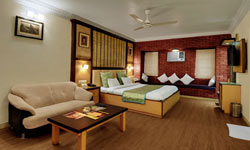 Super Deluxe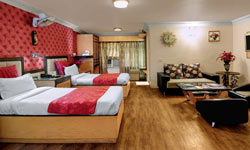 Family Suites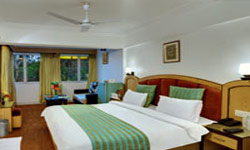 Deluxe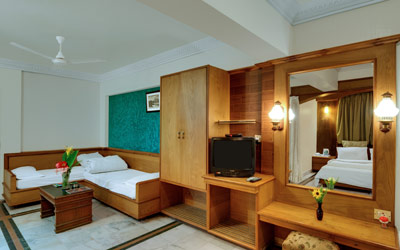 Family Four Bedded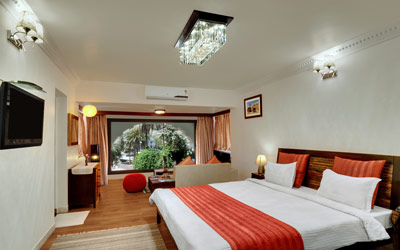 Studio Room
For current tariff and booking click here
Salient Features
– 24 Hour Security
– Air-conditioning in all Rooms
– Guidance for Mt. Abu Tourism
– Children Play Ground with Slides
– 32″ Flat LCD with Cable Connection
– Tea and Coffee makers (for Cottages)
Doctor on call –
Daily newspaper –
Daily Housekeeping –
24 Hour Room Service –
Bedside Tables with Lamps –
Attached Bath with running hot water –
Bath amenities with personal care kit –
Special Discount: Avail 10% discount individually on Chacha Museum Chacha Cafe on booking your stay with Chacha Inn.
Gardens at Hotel Chacha Inn
The lush green wide gardens at ChaCha Inn gives as ambiance of natural luxury, feels like staying in heaven of nature, fresh breathe, early morning with fresh air gives us energetic start to experience the "abode of Gods", Mount Abu.
Garden are available for wedding, events, school functions and competitions.
ChaCha Inn Hotel Summary
– Category: Garden Retreat.
– Room Type: AC.
– Entertainment: Live Langa Singers, Puppet Show, Magic Show, Garden, Games.
– Total Rooms: 32
Super Deluxe Rooms: 5; Garden View Rooms: 7; Cottages: 10; Family Suite: 3, Deluxe Rooms: 2, Four Bedded: 3.
– Rooms Arrangement:
Ground Floor: 4, First Floor (in 2 wings): 7; Second Floor (in 2 wings): 6.
Basic Facilities
– WiFi: In every corner
– Room Service: On your every call
– Laundry: Regular and Express Service
– Parking: Wide area with 24 x 7 security
– Garden Restaurant: Machan Restaurant
– In House Restaurant: Dawat Restaurant
– In House Bar: Omar Khayyam serving imported drinks
Lot more over hotel
Plan your theme destination wedding, organize events, beautiful dinning arrangements in hut, in open garden near water fall, in house restaurant 'dawat', on hill over 'machan' water fall, yummy cakes and pastries with 'ChaCha Bakery', exclusive bottles in 'Omar Khayyam Bar' found in Mount Abu
Other Services and Business

ChaCha Cafe: Coffee and exotic food is just a roller coaster ride of your stay in Abu, well-famed and scrumptious.

ChaCha Inn Museum: 'The Museum – Like Shop', if seeing the ethnic Rajasthan and filling your bags with few famous handicrafts loaded things, this 60 years old Emporium in Mount Abu, is the perfect option.

ChaCha Villa: heading to mount abu, your way stops you by Chacha Villa, the most impeccable location for a picture perfect holiday with a discotheque equipped with Yamaha DJ Equipment, Gazebo, Jacuzzi, Swimming pool and King Size Bedrooms at par with hospitality standards.
The Garden Retreat Gallery
Exclusive Amenities
– Welcome Drinks
– Yoga Mats
– Hair Dryer (on demand)
– Mini Refrigerator and My Bar
– Wellness Center (Indoor – Out Door Games)
– To and Fro Shuttle Service for In house Guests. (Between Hotel and Town)
Locate on Map
Contact Details
Email: info@chachainnhotel.com
Website: www.cachainnhotel.com
Contact Person: Mr. Alok Chaturvedi (Reservation Manager)
Address: Main Road, Mount Abu-307 501. Rajasthan (India)
Contact No: +91 94143 56462, 02974 235374
Quick Enquiry with #AT discounts
Staying in mount abu could be no better if it isn't ChaCha inn, and the natural experience is just better than anything around. And undoubtedly your holiday can never be boring, so sew your mnemonic album at Chacha Inn
The tariff varies with season and discounts produced by AbuTimes are finalized by Hotel authorities itself