Chacha Cafe Mount Abu is located on the main road, a vibrant, upscale living and leisure destination. offering a convenient destination for local fans and travelers alike. The café has been well equipped for the visitors to socialize and unwind their stressed up fast life.
When it comes to having drinks, you'll never run out of excuses, off course international coffee being inclusive. At least, not at Chacha's cafe. The light, cheery setting of Chacha's Café will be the first thing you'll notice.
An irresistible menu consisting of classic cuisine, including burgers, sandwiches and salads, awaits to awaken your taste buds, while all time flavor is also represented consisting of favorites like chicken kebabs and more.
Things offered at ChaCha's Cafe, Mount Abu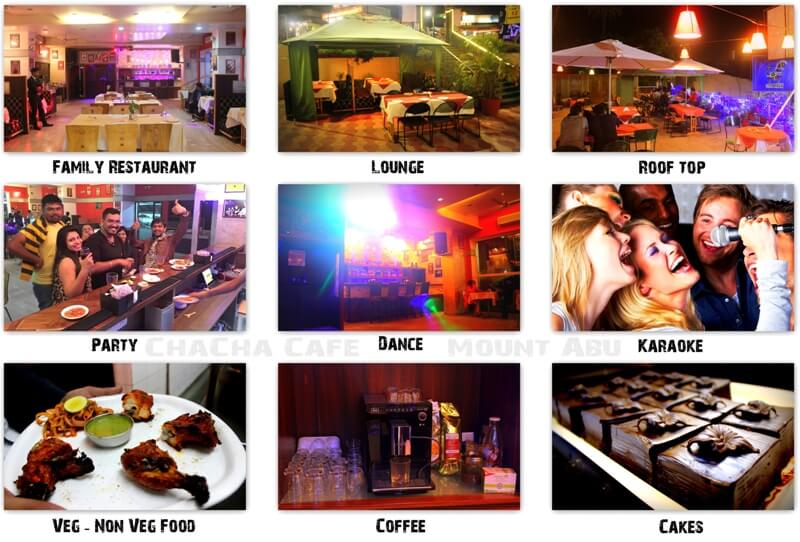 *Family Restaurant – Roof Top – Lounge – Party – Dance – Karaoke – Veg n Non Veg Food – Coffee – Cake … and fun unlimited
Why ChaCha's Cafe
– The only place offering Night Life in Mount Abu
– Roof Top, Open Lounge & Sound Proof family restaurant at one place
– Drink, Dance & Sing with your friends; exclusive brands available nowhere else in abu
– Delicious cakes, international coffee servings and finger licking veg and non dishes for a fun filled evening
Night Life in Mount Abu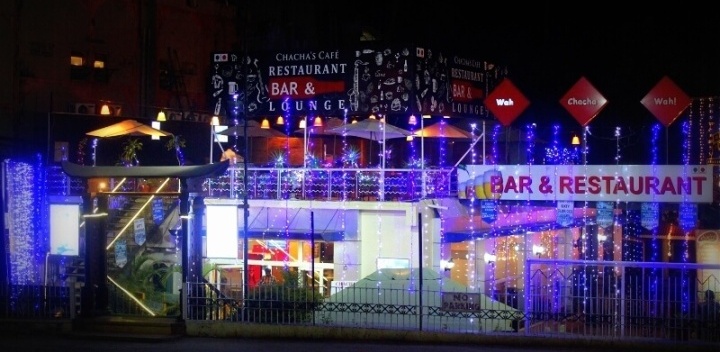 This is the neighborhood place for those who love their drinks, and more than that, love great conversations over drinks and with those sparkling lights. Drop in for an outing with friends, or maybe just enjoy drinks with your folks. And it will be a hard decision to make, given 16 brands from different countries and the largest collection of brands to utterly spoil you for choice.
What makes ChaCha's Cafe exclusive in Mount Abu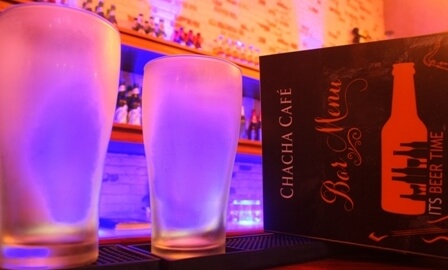 They Serve only Chilled Glasses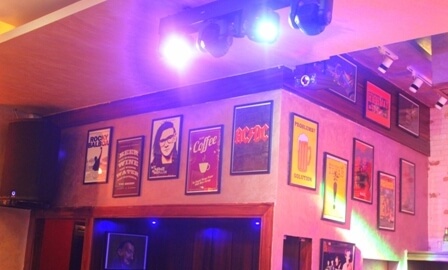 Explore the phrases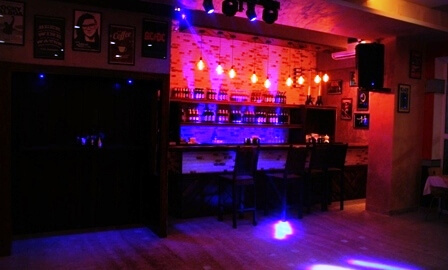 Party Animals Destination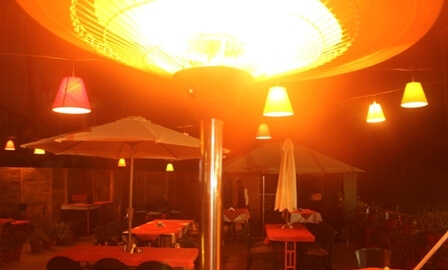 Heaters at Roof Top Restaurant
Other Business and Services
ChaCha Inn Hotel: A garden retreat hotel.
ChaCha Museum: Shop the exclusive collection.
ChaCha Villa: On the way to mount abu, Gazebo, Jacuzzi, Swimming pool etc.
Restaurant Summary
WiFi: Available for FREE
Parcel Facility: Available
Food Type: Veg and Non Veg
Parking Facility: Available
Timings: 10:00 am to 11:59 pm
Category: Bar, Family Restro, Pub
Seating Arrangement: Ground Floor, Roof Top & Open Lounge
Special Features: Imported Drinks, Delicious food, Good Rock Music, Awesome Awesome Ambiance
HAPPY HOURS HAPPY CUSTOMERS HAPPY PLACE
Latest offers: Buy 2 Drinks and get 1 Drink absolutely FREE (on selected brands)
Come and say CHEERS 🙂 to Life
Cafe Photo Gallery
Contact Details
Email: info@chachainnhotel.com
Website: www.cachainnhotel.com
Contact No: +91 94143 56462, 02974 235374
Address: Near ChaCha Museum, Main Road, Mount Abu-307 501. Rajasthan (India)
Order Online/ Quick Enquiry
Geographical Location
Chacha's Cafe is waiting to take your dining and entertainment expectations to a new level. With 1000 square feet of space, our state-of-the-art cafe features 40+ seats divided into two distinct sections, a stage for live fun for young boys, and a sound-proof and safe space for the family-friends and girls genre.