The fourth chapter of new year party INTO THE WILD by Thrill Zone is announced.
This year thrill zone offering more fun and more adventure to welcome 2019 in jungles of Mount Abu:-
The New party package includes:
1. Camp stay 2. Campfire 3. Dinner (Veg & Non Veg) 4. DJ Night (Music & Lights) 5. 3 Adventure Activities and fun unlimited surrounded with flora and fauna of Aravallis.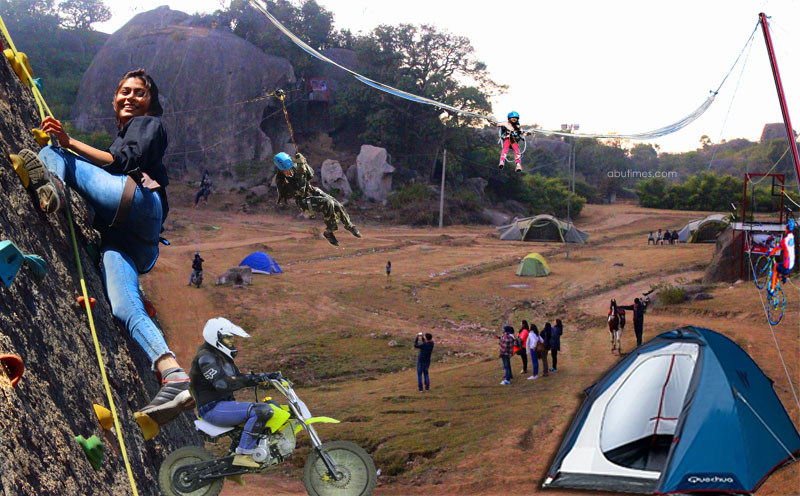 Features:-
1. Gala dinner along with delicious breakfast.
2. Accommodation in tents with proper bedding and other services like proper washrooms and electricity for charging
3. A once in a life time experience of enjoying an Amazing ambiance of Glamping ( luxurious camping) in the lap of mother nature with all the facilities to keep you warm and cozy
4. Some soft and light live music for the after party
Some steals from previous celebration at Thrill Zone Click Here
Contact Details
Email: abughumo@gmail.com
Website: abutimes.com/thrillzone
Contact No: +91 94144 57895, 94624 64474
Contact Person: Tanay Agarwal & Tanay Yadav
Address: Before Oriya Toll Tax, Guru Shikar Road, Mount Abu-307501. Rajasthan (India)
Thrill Zone Adventure Park a venture of Abu Ghumo is the sole adventure site with more than 20 adventure activities including very exclusive activities like zip bike, highest natural wall climbing, longest zip line, biggest campsite etc.
For more posts related to Thrill Zone Adventure Park,
click here