News | 20th March 2018 the date when Sirohi Darbar Shri Maharao Shree Raghuveer ji from district Sirohi was awarded the Padma Shree from the Honorable President of India Mr. Ram Nath Kovind at Rastrapati Bhawan, Delhi. We today on Sirohi Establishment day from our whole team of abutimes and on be half of shirohites congratulate you from our proud hearts and hold the deepest respect and admiration for the milestone you achieved.
Padma Shri (also Padma Shree) is the third highest civilian award given annually and fourth highest civilian award in the Republic of India, after the Bharat Ratna, the Padma Vibhushan and the Padma Bhushan. Awarded by the Government of India, it is announced every year on India's Republic Day.
Brief history of Sirohi
Sirohi State was a princely state in the Rajputana Agency in India with its capital at Sirohi. Sirohi state was merged with the Rajasthan State on 16 November 1949.
In 1405, Deora king Rao Sobhaji a descendant of the Nadole ruler Samantsi Songara of Chauhan clan founded the town of Shivpuri on the western slope of Siranwa Hill. Shivpuri today lies in ruins. In 1425, his son and successor, Sehastramal (or Sahastramal, Sehastramal), founded a fortress on the eastern slope of the same hill, which became his capital and grew into the present-day town of Sirohi. Ant it was "Aakha Teej" that day.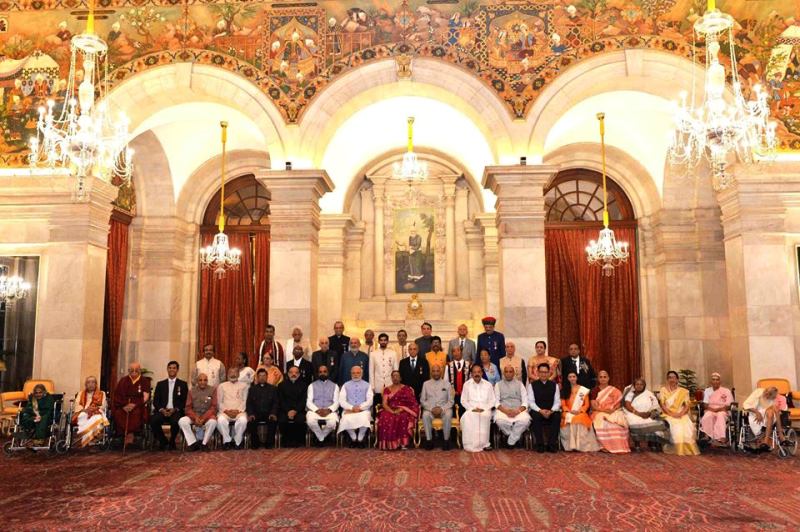 For valuable services rendered during the Revolt of 1957, Rao Keshri Singh (ruled 1875-1920) and his successors were granted the title Maharao (equivalent to Maharaja) in 1889.
.
रघुवीरसिंह जी सिरोही को महामहिम राष्ट्रपति महोदय द्वारा पद्मश्री प्रदान