Shree Pavapuri Tirtvh Jiv Metri Dham is situated at Sirohi district of Rajasthan. This campus is developed by K. P. Sanghvi Group and it comprises of a Jain Tirth (Temple complex) and Jeev Raksha Kendra (Animal Welfare Center).
Shree Pavapuri Tirth Dham is a shining example of Jain Temple Architecture and Culture. It is a beautiful blend of art and architecture, enshrined in pure values that have percolated through generations. A visit here is therapeutic for the mind, body and soul.
The blissful state of mind and peace experienced by a soul in Pavapuri cannot be put into words as it can only be felt. The calm, beautiful, scenic and vast complex of Pavapuri sits ensconced amidst the contemplative Aravali Mountain range that sits like a determined yogi in meditation.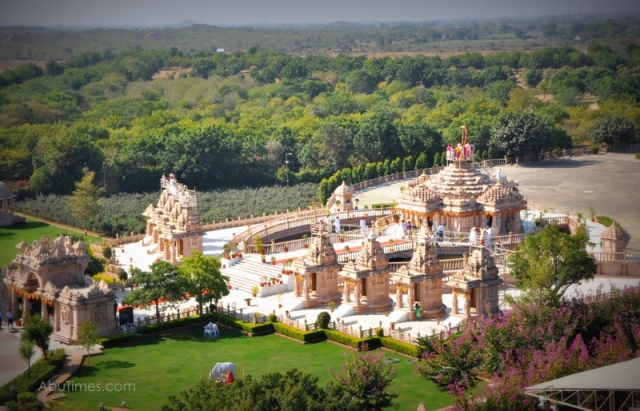 Address
Shree Pavapuri Tirth – Jeev Maitridham
Krishnaganj, Kandla – Delhi Highway,
National Highway No.8,
Pavapuri, Dist. Sirohi
Rajasthan – 307001
Telephone: +91 2972-286866, +91 9799399111
Fax: +91 2972-286814
Email: pavapuri-rj@nic.in
How to reach
The temple is situated at a distance of 57 kilometers from Abu Road Railway Station and at about 22 kilometers along the Sirohi – Deesa – Kandla highway from the Sirohi District centre.
57 kms from the Abu Road Railway Station
22 kms along the Sirohi – Deesa – Kandla
145 kms from Udaipur Airport (3 hrs drive)
200 kms from Jodhpur Airport
250 kms from Ahmedabad Airport (3 hrs drive on Express Highway)
Location on Map
Courtesy: www.pavapuri.com