Mount Abu is a quaint, rustic hill station in the state of Rajasthan. Nestled in the lap of the Aravalli mountain range, It has great history and mythology associated with it. The Aravalli mountain range is one of the oldest in the world, and Mount Abu has been home to a large number of ascetics in ancient times, who performed meditation in these peaceful regions.
Even in the present day, a large number of Ashrams belonging to various spiritual heads of the Hindu religion are located in Mount Abu. Prominent among them is Prajapita Brahmakumari Ishwareeya Vishwa-vidyalay. Pandav Bhawan is a building complex belonging to the organization of Brahmakumaris. Commonly called Madhuban, this place is where the founder- father of the organization, Prajapita Brahma spent his spiritual life. Fondly called Shiv Baba by his followers, he is believed by them to be the incarnation of Lord Shiva. The main office of this spiritual organization is now housed in this building complex.
The important places inside Madhuban are
1. Meditation hut
This is where Shiv Baba practiced long hours of meditation. One can feel the powerful vibrations when you enter this room. It is maintained in exactly the same way as it existed at the time Shiv Baba used to do his meditations here.
2. Tower of peace
This is the place where the mortal remains of Prajapita Brahma were laid to rest. As the name denotes, this place is believed to emanate positive vibrations for world peace.
Facts & Beliefs
 Madhuban hosts upward of 35000 residential guests every year.
 It has 500 people living permanently on campus.
 There are 42 different departments like kitchen, laundry and transport among others. The residents make sure that all these departments function smoothly in order to ensure that the guests have a comfortable stay in the campus.
 The kitchen is equipped to cater to 4000 people at a time.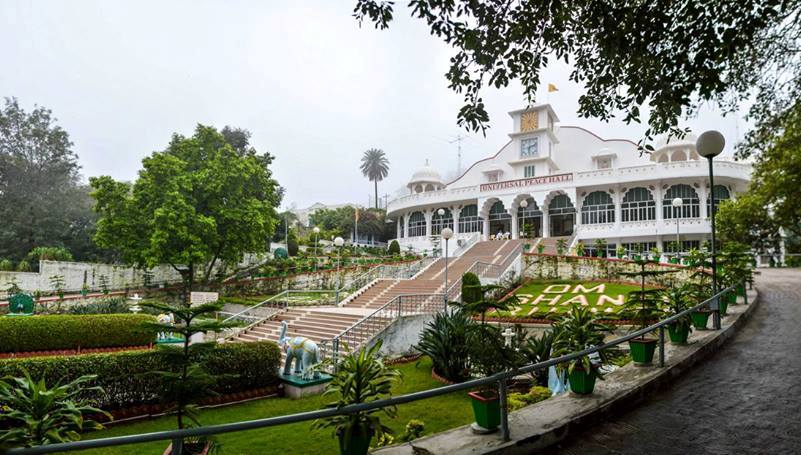 Om Shanti Bhawan
This is a huge hall right opposite to where Madhuban is located, just across the road. With seating capacity of 5000. Its main purpose is to host spiritual discourses and conferences and various other programs.
Built in 1983, it has attracted many tourists ever since. It can boast of 8000 foot falls on an average every day.
It has translation facility in 16 languages for the benefit of visitors from all over the world.
To top it all, it is a very attractive building and a must see for any visitor to Mount Abu, irrespective of spiritual beliefs.
Things to do
– Meditation: Soak in the atmosphere and feel the positive vibrations bring in a sense of inner peace and happiness.
– Energize yourself in the peaceful environment and lush green garden.
– check out the big auditorium hall and attend the cultural programs occasionally organized in hall.
How to reach
It is at a half kilometre distance from the main market.
Places Around
Nakki Lake-The centre piece of the town, it is a serene and placid water body with a variety of birds living in and around it.
Main Market-At a short distance, the market has rows of shops selling all kinds of interesting wares at very competitive prices.
Sunset point—This is a picturesque view point about 2 km from Pandav bhawan.
Additional Information
Duration: 30 to 45 mins.
Good for: people of all age groups, particularly the spiritually inclined.
Tickets: there are no tickets to visit the place.
When to visit: any time in the day is a good time. The place is always bustling with people.
Locate on Map
Pandav Bhawan is an impressive place which must be visited by followers of the faith and others alike. The harmony and smooth functioning of the place in the absence of any significant supervision, has to be seen to be believed. It is an experience of a life time and something truly worth emulating.