"Dont practice yoga to get better at yoga , practice yoga to get better at living"
Since we recently celebrated International Yoga Day on the 21st of June, we got to see a lot of people posting about yoga and practicing yoga on social media.
But, what we fail to understand is that yoga is not just for a day and is to be adapted as a part of your life.
Looking at the daily struggle of life it is a kind of wrestle to keep up with a healthy lifestyle. The most commonly heard excuse is that "We don't have enough time".

Live interview with Yog Acharya Gaurav ji From Rishikesh.
Amidst all this struggle and grind we often forget the fact that our body is our temple and we need to worship this temple everyday. There are a lot of reasons to stay lazy and be unhealthy but there are more reasons to stay healthy and live a joyful life.
Everybody faces a lot of health and mental issues and it is deteriorating day by day, all because of our unhealthy eating habits, pollution, laziness and lack of awareness.
The study says that the percentage has increased the deaths from heart diseases by 34% from past years, by 6% from cancer and 64% of deaths generally happens because of health issues.
Its time to bring the change.
                           "You cant stop the waves, but you surely can learn to surf."
We may not be able to control few things, but some of it is in our hands. Start practicing Yoga on a daily basis and see  the difference yourself.  Stop using excuses , allow yourself to be a beginner.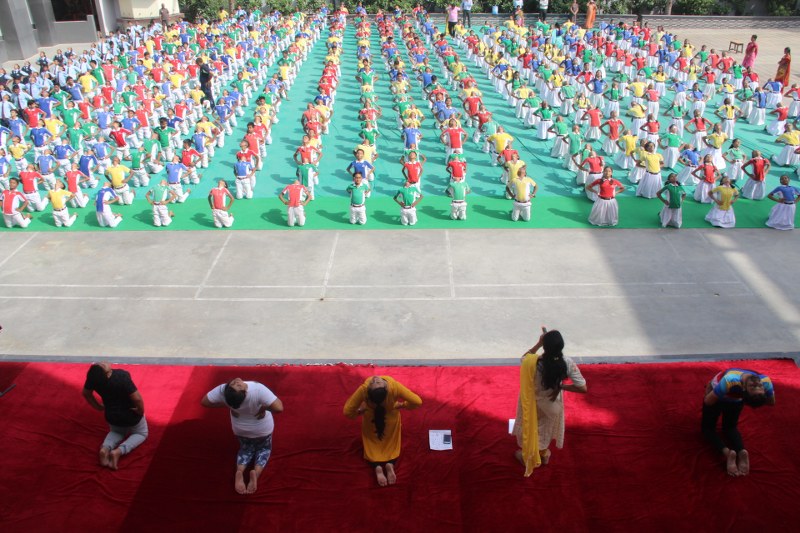 Students performing yoga st St. John's School, Abu Road on 2018th Yoga Day
Yoga is an instrument which helps you heal your body and mind. It helps you clear your mind and you can find a subtle calm in your life.
You ask me why is all this important?
My answer would just be,
Listen to your body its smarter than you are.
Sometimes our body gives us signals like joint pains, stress, acidity,etc. but we tend to ignore them and continue with our rather busy and hectic life. Do yoga, Run daily, Eat right and you have the mantra to a healthy body and soul.
Yoga is an art of awareness of canvas of your mind, body and soul. Paint the canvas with infinite colors, close your eyes, take a deep breath and still the fluctuations of life.
Step out of your house every morning and take a deep breath of fresh air. Tie your shoe laces and start running. Small step can bring big changes in your life. Shrug off the mountain you are carrying on your shoulder as a burden that you were supposed to climb. You are just one Yoga session away from a good mood. Through daily yoga you can stable your mind, body and soul.
Yoga independent of any equipment, place or person is the most easiest and finest way to keep yourself fit and enhance your health.
What experts has to say :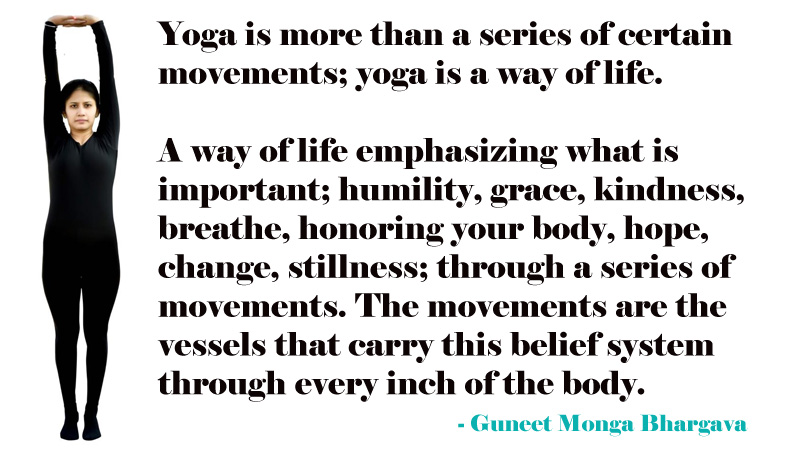 Dr. Guneet Monga Bhargava​  is a renowned yoga expert in udaipur. After completing Post Graduation Diploma in Yoga and Education (Gold Medallist) from MLSU Udaipur and M.Sc. (Gold Medallist) in Preksha Meditation and Yoga from Ladnun, he is actively training and teaching yoga to people and leading them to a healthy and peaceful life.
Lets explore more about yoga:-
Yoga is believed to have started almost 26,000 years ago by the Gurus and Rishi-Munis. In fact the yogic mythology says that Lord Shiva is the first Yogi and the first Guru or Adi Guru of Yoga. Rishi Patanjali was the first one to introduce the Yoga Sutras, he compiled all the yoga forms. The yoga's famously practiced are Hath Yoga, Pranayam, Bikram Yoga, Ashtanga yoga, etc.
The person whom we can give credits for resuscitation of Yoga in India and worldwide is Baba Ramdev. He conducted many yog shivirs and invited mass public to join him in the league of adapting a healthy life. After sometime it came in like a boom and spread worldwide like a wildfire. In order to introduce it to the world and make the world understand the value of Yoga India's current Prime Minister Mr. Narendra Modi proposed the idea of International Yoga Day during a speech at the UNGA (United nation of general assembly) on 27th of September 2014 and later 21st June 2015 was celebrated as first International Yoga Day across the world.
Mr. Narendra Modi in his speech suggested the date of 21 June, as it is the longest day of the year in the Northern Hemisphere and shares a special significance in many parts of the world.
Celebrating the fourth International Yoga Day this year we saw a lot of innovative ways to practice Yoga to make it all the more adventurous and interesting, like performing it in water, on a tree and under the tree.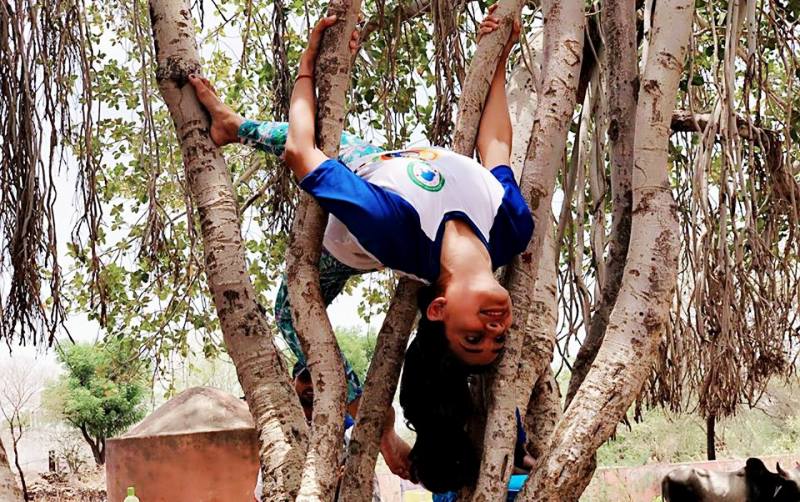 Jaswant Menaria from Udaipur made yoga more interesting and amazing by performing it on trees with his students on 2018th Yoga Day
After knowing all this about Yoga the question arisies that is it just for a day or to post it on social media and getting few likes?
The answer to it is NO.
The idea of International Yoga Day is to spread awareness about yoga and how important it is to practice daily. Understanding the core of it is more important here.
How Yoga can be a part of our daily routine:
1) All the governmental and non governmental bodies performing yoga should continue organizing yoga events even after 21st June on national holiday, Sundays and other occasional days. Global summits can be conducted so that various countries participate in them.
2) Make each day of your life count and make it a learning phase. Learn Yoga everyday, practice that learning everyday.
3) Keep yoga sessions everyday in school before the classes so that the kids make it a habit in their life.
4) Conduct awareness programs in schools, societies, clubs, etc.
4) I have a ritual to call my mother everyday in morning to remind her to practice yoga. Like this each one of you can motivate and encourage your loved ones to do it everyday.
5) Forming groups and perform yoga in the park encouraging and involving others to do the same.
6) Like the #HumFitTohIndiaFit Challenge there should be some more international challenges related to various yogasanas.
7) In all the corporates yoga should be a part of their schedule it comes out to be therapy for the overly stressed employees, which directly will increase and enhance the productivity.
8) Yoga camps and other fun activities in it are always a fun thing to do.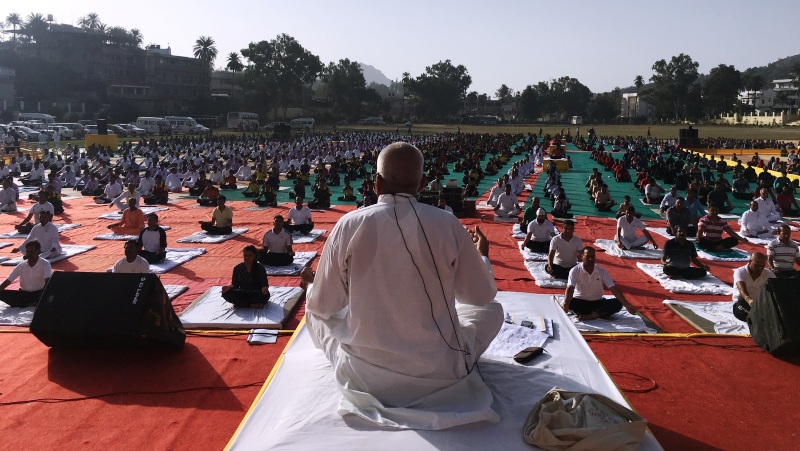 People of Mount Abu performing yoga on 2018 Yoga Day
So what are you waiting for?
Pull your yoga pants up and get on that matt.
BREATHE.
STRETCH.
MEDITATE.
LIVE IT UP.
FORGIVE.
FORGET.
RELAX.
At last we are sharing a video of Shwetal Kandhari performing various yogasans; You too practice this yogasans everyday to keep yourself fit and fine: