Situated on top of hill on the way to Sunset Point makes this hotel like a Mini Mount Abu in Mount Abu. Nestling in 7 acres of gardens and greens, perched atop a hillock with scenic views of the surrounding hills and valley which are enriched with flora​ and fauna.
Kesar Bhawan Palace was built in the year 1868 A.D. by His Highness Maharajadhiraj Maharao Umed Singhji of Sirohi. It has been converted into an eco-friendly heritage hotel by Maharaj Daivat Singh of Sirohi whose ancestor Maharao Lumbha conquered the hill of Abu in the year 1311 A.D. and brought the area in the domain of the princely State of Sirohi, which was founded in the year 1206 A.D. by Rao Manning Rai.
Why choose Kesar Bhawan Palace
– Standing in the balcony gives one a feeling of living in a hill station with luxurious heritage accommodation
– It is within walking distance from the Lake and the Bazar (Shopping areas) and thus it enjoys the best of both
the worlds.
– Environment friendly Hotel believes in nature conservation, and get natural light from roof top glass windows in the bathrooms
Kesar Bhawan Palace – Heritage Rooms in Mount Abu

Duplex Suites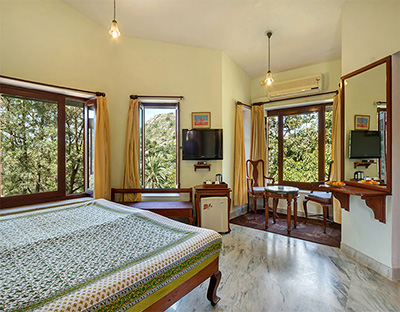 Superior Rooms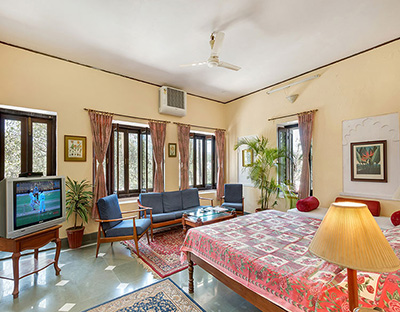 Deluxe Room
With cozy beds and a lovely ambiance you might just wake up in the morning open a door and find a tree greeting you, Standing in the balcony enjoying the panoramic view of the magnificent hills.
Exclusive Features
– Garden with over 100 year old trees
– Spacious bathrooms with bath tub
– Luxurious room with heritage ambiance
– Gives you the feel of living in real hill station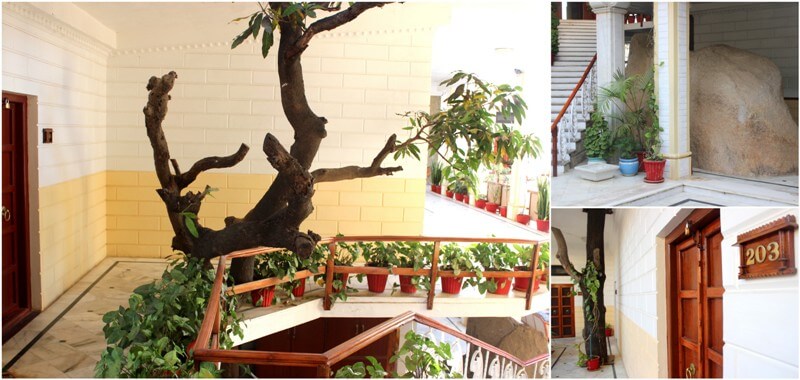 Being a nature lover Maharaj has preserved all the trees and rocks even within the building hotel
Amenities
– Doctor on Call
– Parking Available
– Running hot and cold water
– Restaurant with scenic view
– Credit, Debit Cards Accepted
– Heritage lounge with a fireplace
– In-house restaurant serving delicious food with nature's view
Hotel Summary
– Category: Heritage
– Check in: 10:30 am
– Check out: 09:00 am
– Extra bed: Available on demand
– Room Type: All rooms are AC and with a view
– Total Rooms: 24
Duplex: 2, Superior: 14; Deluxe: 8;
– Rooms Arrangement: Ground Floor: 15, First Floor: 09
Contact Details
Website: www.kesarpalacemtabu.com
Email: kesarpalacemtabu@yahoo.co.in
Contact Person: Abhijeet Singh (Reservation Manager)
Contact No: 02974-235219, 9414 343230
Address: Sunset Road, Mount Abu – 307501
Tariff Details
| Deluxe | Superior | Duplex |
| --- | --- | --- |
| 3550/- CP + Tax | 4950/- CP + Tax | 7500/- CP + Tax |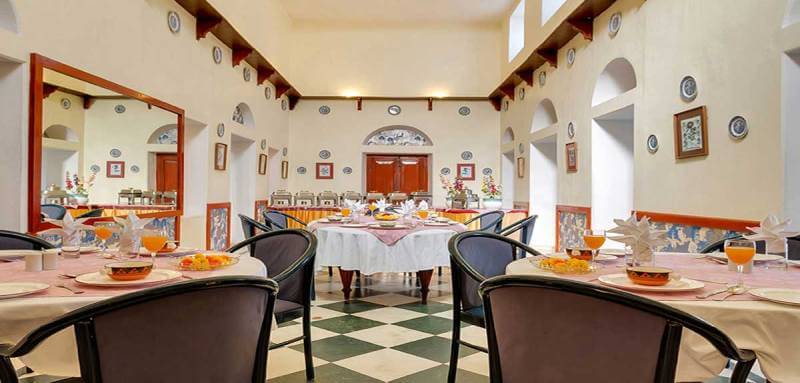 Restaurant : With subtle interiors and healthy wholesome cuisines, this is a restaurant with a difference.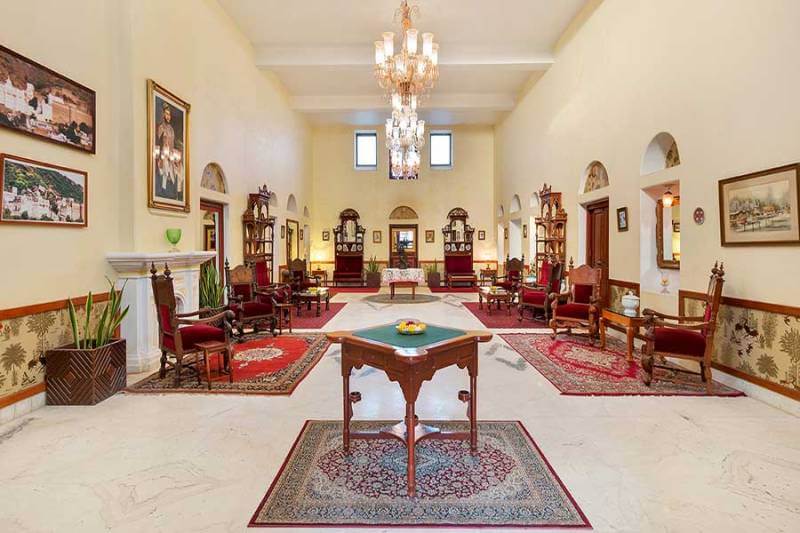 Lounge : What could be better than sitting in the lounge with old World Charm in the company of family and friends.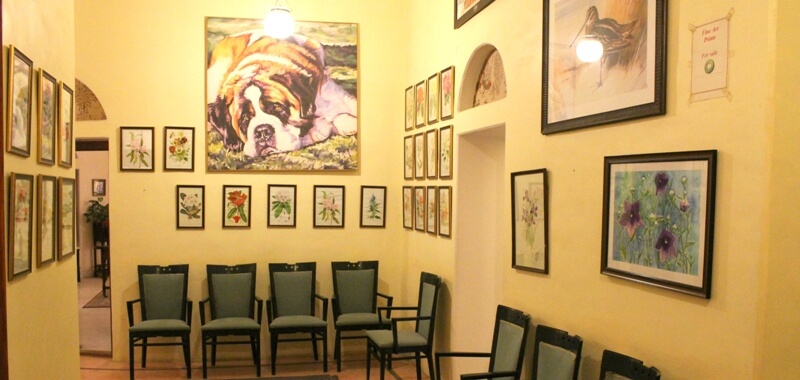 Picture Gallery : Look around at the display of nature.
Quick Booking Enquiry
Locate on Map
Being in Kesar Bhawan Palace one feels like living in the precincts of nature with trees all around you
For more posts related to Hotel Kesar Bhawan,
click here
The tariff varies with season and discounts produced by AbuTimes are finalized by Hotel authorities itself