FOCUS LIFE SKILLS, the one-stop Training, Assessment & Counseling solution for building the right behavioral skill-set for anyone.
FOCUS LIFE SKILLS Talent Management firm offers assessment programs; customized coaching; training, and consulting that can help you optimize your most valued resources – your inborn talents.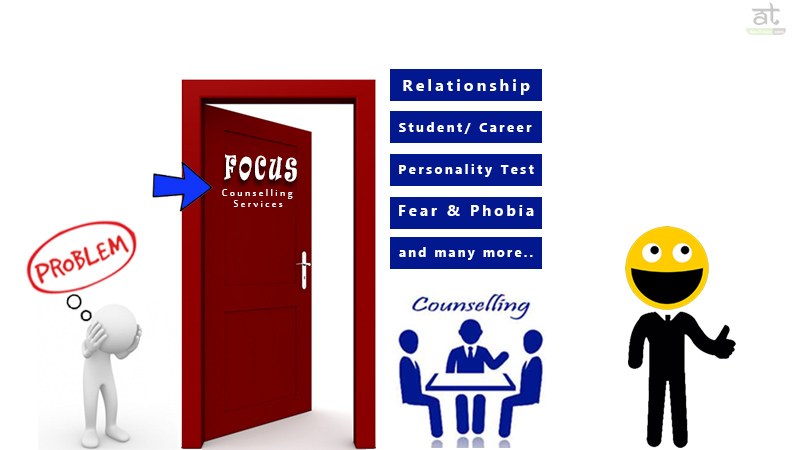 Why FOCUS LIFE SKILLS
– Having experience in counseling and behavioral training from last 15 years.
– Team of best Behavior Analyst, Child therapist, psychiatrist, teacher and professionals.
– Conducted more than 1000 assessments, and trained approx 50,000 individuals & participants.

Services Offered
TESTING
– Personality Test
– IQ & Aptitude Test
– Behavior Analysis Report
COUNSELING
– Behavior Counseling
– Career Counseling
– Fear & Phobia Counseling
– Relationship Counseling
– Performance Management
TRAINING
– Teacher Training on Behavior Science
– Lectures on Psychology topics
– Soft Skills & Parenting Workshop
– Creating a counseling cell in school
Pattern of Service
– Personal Counselling (One to One consulting)
– On call or Video Chat for people at long distance
– Seminar, Workshops and Training at Schools, Colleges, Companies, Industries and others
Some popular one liners by FOCUS LIFE SKILLS
– Live like king, Work like Student

Contact for Seminar/ Workshop
FOCUS LIFE SKILLS is the best and scientific way to motivate students, employees taking out best out of them, enhancing their work limit and credibility
Contact Details
Website: StepFame.com
Email: mailstepfame@gmail.com
Mobile No: +91 9558 448089
Contact Person: Miss Roshni
Services: Active services in Mount Abu, Abu Road, Sirohi and around
Make a Quick Enquiry
Helping you smile again with counseling for every situation… FOCUS LIFE SKILLS