Newly constructed Dayanand Paradise School from standard Nursery to 6th is an unique blend of values, ancient (Vedic Culture), modern and spiritual. They have a team of expert faculties and have carved out this beautiful educational setup to groom students having the required life skills, and are morally, culturally and academically competent to make meaningful contribution to the nation and excel in their profession with special emphasis on spirituality and character building.
The school is now affiliated to the Rajasthan Board of Education. English is the medium of instruction. The school has a dedicated faculty of highly qualified and efficient teachers, who use modern techniques of teaching. Interdisciplinary and experiential learning is encouraged to strengthen conceptual knowledge.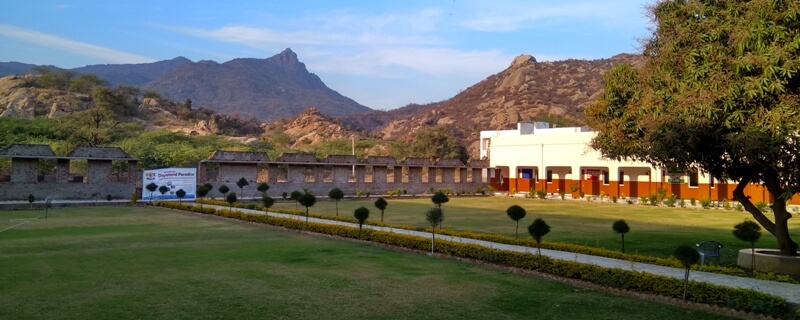 Why Dayanand Paradise
– Hygienic cafeteria & healthy delcious meals planned by a nutritionist
– First English Medium Day Boarding cum Residential School without Bag in abu road
– Located in the foothills at the most peaceful and beautiful landscape of abu road
– Newly constructed school is focused to deliver unique blend of Vedic culture & Modern Education
MISSION
Build the next social leader of society
To develop human resource, well educated in the various aspects of modern science and technology, which is fully devoted to the nation having knowledge of Vedic Culture.
VISION
Development from root level of every student
Dayanand Paradise should be recognized in the academic world as an institution of excellence for learning to the entire satisfactions of all concerned.
School Daily Schedule
Grooming them from their very first day of School targeting all round development providing organic and nutrient food, every morning yoga, exercise and prayers, smart classes teaching atmosphere focusing more on practical knowledge delivery, evening refreshment, extra classes and recreational games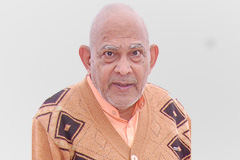 A civilization is not built of bricks, steel and machinery. It is built with men, their quality and character. We build dams, big canals but the aim of Dayanand Paradise is to build a man for whose prosperity dams and canals are building. – Blessings from Swami ji.
Children are the future of any nation and are at the centre of the dreams and aspirations of the parents and country. Parents wish to see their children achieve great heights. – Chairman's Message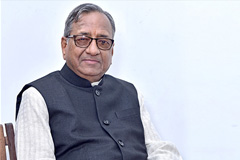 Objective
– To prepare students with ability to face international challenge.
– To prepare wholesome individuals equipped and conditioned to work or live in any part of the globe.
– To provide high quality education- including State-of-Art infrastructure, excellent academic and cultural environment.
– To offer a medium of instruction with teaching of English, Sanskrit, and one foreign language to facilitate mobility in pursuing higher education in required institutions both within the country and outside.

School Summary
– Students: Co-Ed
– Medium: English
– Classes: From Nursery to VI
– Board: Affiliated to Rajasthan Board
– School Timings: Summers 8:15 am to 5:30 pm; Winters 8:45 am to 5:00 pm
ADMISSIONS OPEN

Features and Facilities
– Class Rooms: Smart classes with latest teaching aids, library wards full of interesting books and facing the hills.
– Hostel: Well disciplined hostel atmosphere with wardens bed at every gate.
– Transport: Transportation facilities available in the city and all nearest towns.
– Activities: Daily Yoga, Exercise, Music Art, Daily Prayer, Sports, Indoor Games.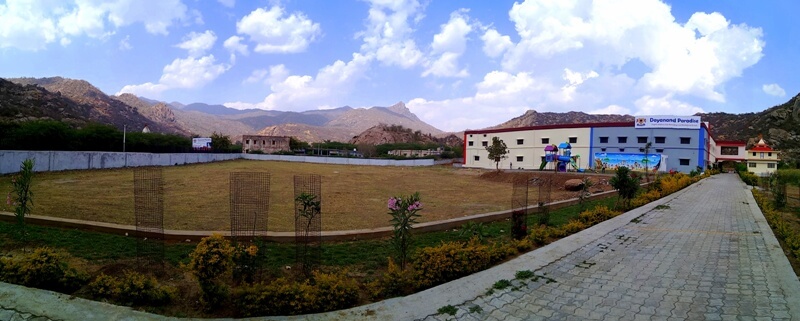 Contact us
Office Timings: 8:30 AM to 05:30PM
Website: www.dayanandparadise.com
Email: dayanandparadise@gmail.com
Phone: +91 73402 12012, 9887 008563
Address: Dayanand Vidyapeeth Campus Opp.to Bhadra – Kali Madir, Rishikesh Road, Abu Road, Rajasthan
Make a Quick Enquiry
Dayanand Paradise strive to prepare cosmopolitan students, who are aware of global issues, different cultural contents and will be confident to take their own decisions and reach their summits.