Inspiring Story | Where suicide and accidents are becoming a common news in mount abu a tourist during his recent visit to mount abu left behind a very inspiring and motivating story for all us. Mr. Bhupendra Tripathi a successful software engineer who lost his complete eye sight while fighting against cancer and paralysis but didn't lost his hope and cleared RBI manger exam and is currently a RBI manager in Ahmedabad.
Where a small injury can pull you back to attempt a dare this fearless and man with full of hopes recently completed a trekking of 6.5 KMs in mount abu and left behind a big example for all of us to never loose hope and gave a message that life is all about moving on their is no space in life to ever loose hope or make reasons to not do things.
During his stay @ Hotel ChaCha Inn he shared his life experience and his journey of 6.5 KM trek in mount abu with no eye sight.
As an 100% visually impaired adventure-lover, I can vouche that the "Hiking & Trekking Company" is the best in its class when it comes to customer centeredness. Our trekking leader Shri Narain Dana, fondly known as ND was not only an expert in guiding the trekkers on the rocky terrain marred with thorny bushes, but also a friendly knowleadgeable chap describing the flora/fauna enroute, especially the Ayurvedic Medicinal plants like "Odomos Tree", "Tequilla Tree", the famous Curry Leaves, Amla/Gooseberries, Indian Milk Weed, Jamun/Blackberries etc. ND and his brother Harsh and entire team demonstrated excellent teamwork, caring affable nature and most importantly, acumen of rock climbing, caving, boulder crossing and photography!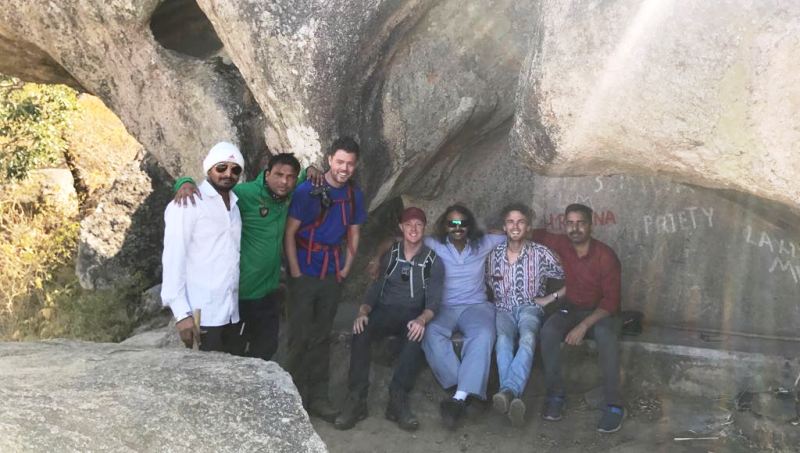 We chose to go on the "Eagle's Peak Trail" that got its name because lot of Eagles hovering on the peak and that it gives the Eagle Eyed View of the Mount Abu town/Nakki Lake.
ND along with the trekking Assistant Shri Naresh made our trek super exciting by indicating along the way: Leopard's claw-prints on tree-barks, Aadarsh Cave, Aghori Shivalingam, Cobra Rock, Dinosaur Rock, Giant Cave, Dried Waterfall Ascent, Butterfly Combs etc.
While entering the cave ND made sure he entered first, armed with Torch/Iron Rods, to check for any dangers like Sloth Bear etc and once clear would signal us in.
My other trek mates, apart from my friend Devendra/Jaipur and Driver/Mehul, were 3 jolly fellows from Britain, Canada, Australia -David, Brett and Jackson.
Together, with the support of ND/Naresh and my hiking buddies, I could create a history of being the first blind ever to complete this 6.5 km strenuous trail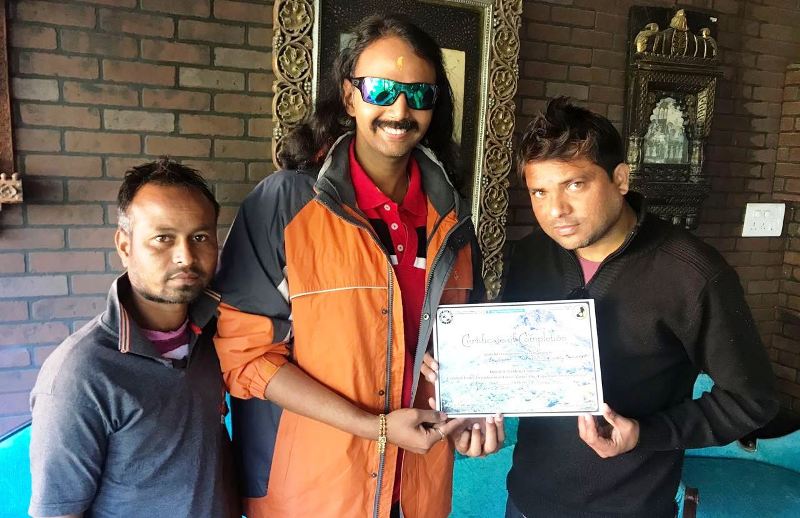 We should take a lesson from Bhupendra Tripathi and should never loose hope in life and shall always do things that we want to do no matter even if you are impaired or for any other reason.